What is Herming in Cannabis?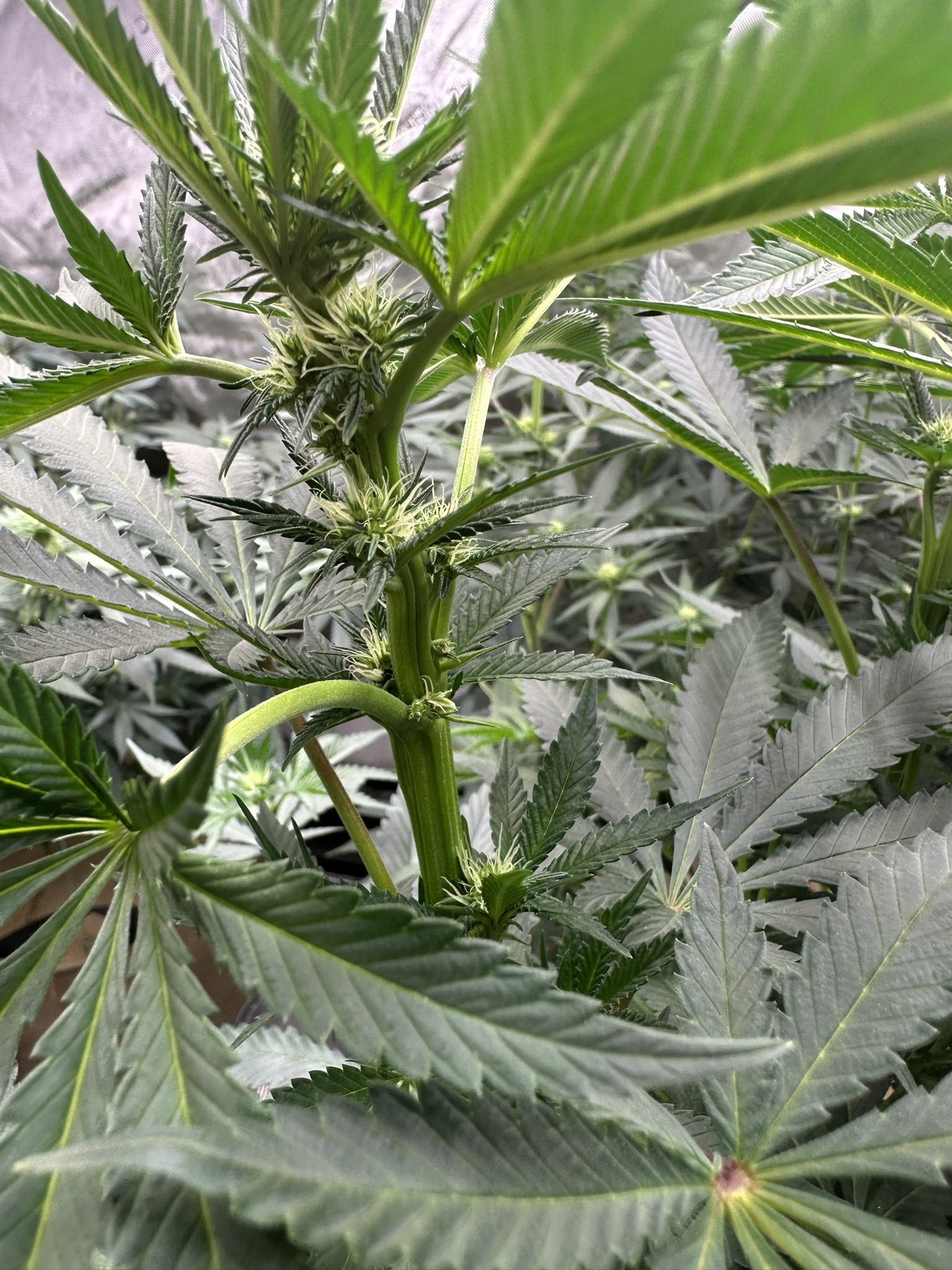 Hermie, short for hermaphrodite, is a term used in the cannabis industry to describe a plant that develops both male and female reproductive organs.
Hermaphroditism is a natural phenomenon in many plant species, including cannabis.
However, in the cannabis industry, hermie plants are generally undesirable because they can ruin a grower's entire crop.
Causes of Hermaphroditism in Cannabis Plants:
Several factors can cause hermaphroditism in cannabis plants, including:
Genetics: Some strains of cannabis are more prone to hermaphroditism than others. Some strains known to have a higher tendency for hermaphroditism include Thai, Haze, Skunk, and some Kush varieties.
However, it's important to note that hermaphroditism can occur in any strain you may want to be extra vigilant.
Stress: Stress is one of the most common causes of hermaphroditism in cannabis plants. Stressful conditions, such as temperature fluctuations, nutrient deficiencies, overwatering, or underwatering, can cause a plant to produce male flowers.
Light Leaks: Cannabis plants are extremely sensitive to light. If your grow room is not completely light-tight, even a small amount of light leakage during the dark cycle can cause your plants to hermaphrodite.
Identifying Hermie Plants:

Hermie plants can be identified by the presence of both male and female flowers. Male flowers look like small sacs that contain pollen, while female flowers have white hairs (pistils) that grow out of them. If you notice that your female flowers are starting to produce sacs or that your male flowers are producing pistils, you have a hermie plant.
When Do Hermie Plants Usually Occur?
Hermie plants can occur at any stage of the plant's life cycle but are most likely to occur during the flowering stage.
This is because the plant is under stress during this stage as it tries to produce flowers. If a plant is exposed to stress during the flowering stage, it may try to self-pollinate by producing male flowers.
Fixing Hermie Plants:
Unfortunately, once a plant has turned hermaphrodite, there is no way to reverse it. The best action is to remove the hermie plant from your grow room as soon as possible to prevent it from pollinating the rest of your crop.
If you catch the hermie plant early enough, you may be able to remove the male flowers before they release pollen and pollinate the others.
Preventing Hermie Plants:
Preventing hermie plants is the best course of action. Here are some tips to prevent hermaphroditism in your cannabis plants:
Choose a strain that is less prone to hermaphroditism. Look for strains with a reputation for being stable and less likely to hermie.
Provide your plants with a stable environment. Keep the temperature and humidity levels consistent, and make sure your plants get the right nutrients.
Ensure that your grow room is completely light-tight. Use lightproof materials to cover windows or doors, and ensure no light leaks in your ventilation system.
Inspect your plants regularly. Check for any signs of stress or male flowers, and remove any hermie plants as soon as you spot them.
Have you experienced herming in your plants? How did you deal with it?
Answers